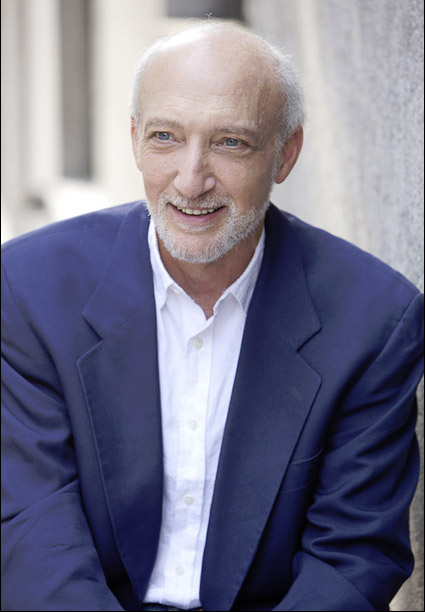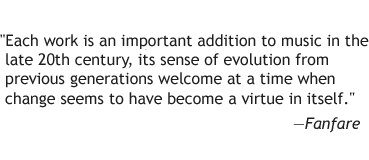 Now available on Albany Records CD1931, The Amernet String Quartet's recordings of Gerber's String Quartets 1, 2 and 3, along with the composer's Spirituals for string quartet. It's available here.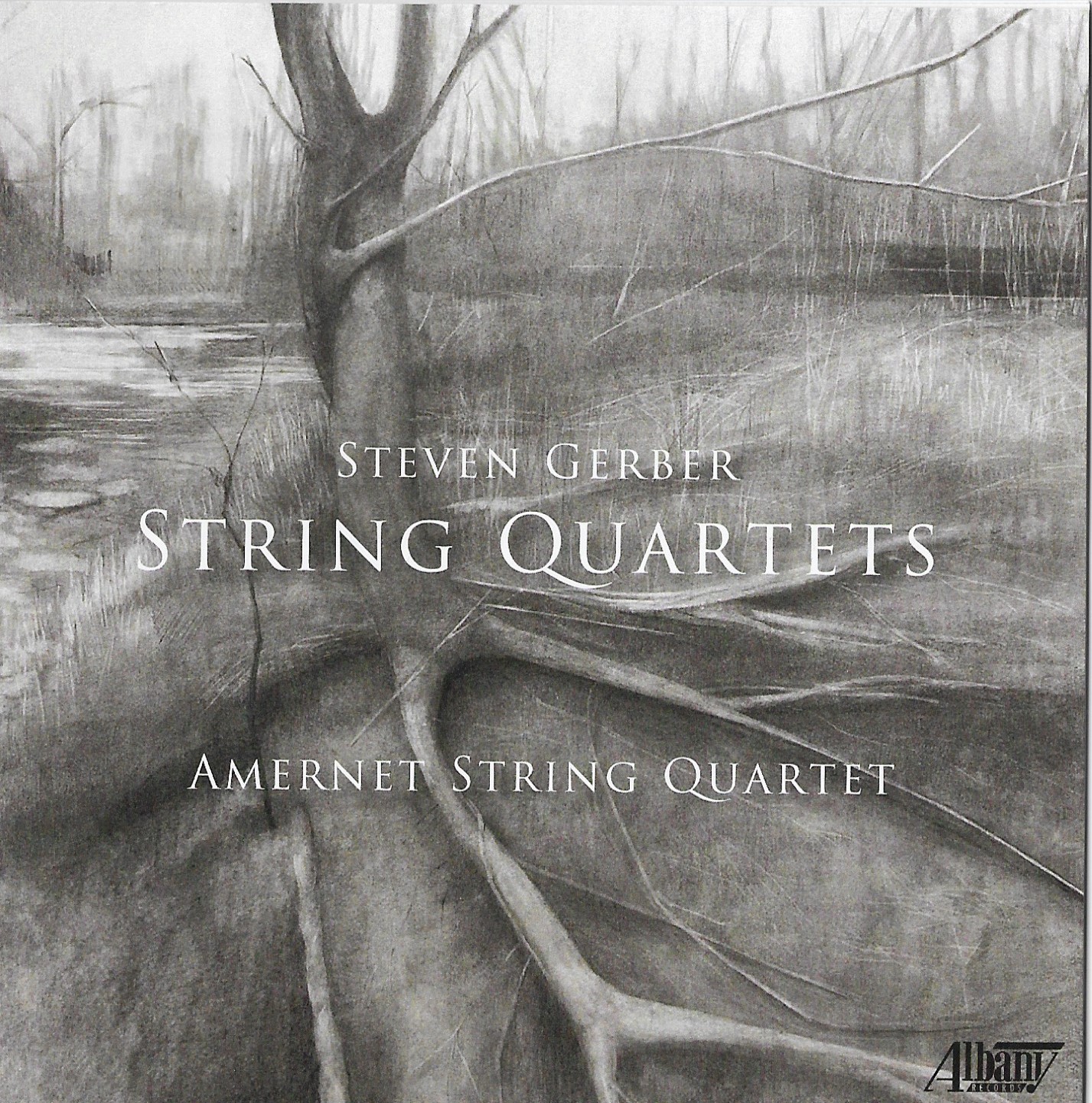 Amernet had previously recorded Gerber's Quartets 4, 5 and 6 as well as Fantasy, Fugue & Chaconne for viola & cello for Albany Records. The label had also released Steven R. Gerber - (Mostly) Solo Piano Music

Amernet's cellist Jason Calloway wrote this as part of the new album's program note, "The string quartets of Steven R. Gerber represent a deeply personal testament for the composer himself while serving as a spiritual bridge to us as performers and listeners in the years since his passing. My colleagues and I in the Amernet String Quartet knew Steve for the last two decades of his life, having first met him while we were students at Juilliard in the context of several local new music performances."

Hear Amernet's performance of String Quartet No. 3 - mvmnt 1.


Maestro Kenneth Woods with the English Symphony Orchestra and English String Orchestra have recorded Steven Gerber's Lyric Pieces, Sinfoniettas 1 and 2, as well as his String Sinfonias 1 and 2 for Nimbus Records.

Hear an excerpt from Sinfonietta, No. 1: III. Presto (arr. Daron Hagen) here, a bit from String Sinfonia, No. 1: I. Moderato at here and part of Two Lyric Pieces for Violin and Strings: II. Passacaglia here.

Read Fanfare magazine reviews of the CD by Huntley Dent, Ken Meltzer and Colin Clarke here. More reviews here.

Read Colin Clarke's interview with Maestro Kenneth Woods and arranger Adrian Williams here.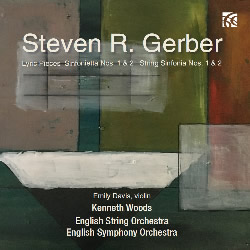 The Gerber Trust has begun a 2-year performance/recording relationship with the English Symphony Orchestra, wherein the Trust will support ESO's 21st Century Symphony Project, which involves commissioning, premiering and recording nine new symphonies by different composers, as well as support for Gerber's music in the U.K. through performances and recordings.

Read an interview with ESO Artistic Director and Principal Conductor Kenneth Woods about the project here.

In partnership with the Gerber Trust, The English Symphony Orchestra, Kenneth Woods, conductor, will present a special Composer Portrait concert celebrating Steven's music on Friday, February 26 @ 7:30PM GMT, originating from Wyastone Concert Hall in Monmouth, England. See the concert here.

Featured works include Two Lyric Pieces for Violin and Strings (2005), with soloist Emily Davis, Sinfonietta No. 1, Daron Hagen's arrangement for orchestra of Gerber's 1991 Piano Quintet, Sinfonietta No. 2, Adrian Williams' arrangement for orchestra of String Quartet No.6, (2011), and more.
On Wednesday, January 13, 2021 @ 7:30 PM EST The Gerber Trust presents the online premiere of the October 2016 chamber music concert celebrating Steven's life and music, filmed at The DiMenna Center for Classical Music in Manhattan. The program is:

Elegy on the Name "Dmitri Shostakovich" for Solo Cello (1991) - (originally for solo viola) – Cyrus Beroukhim

Fantasy for Solo Violin (1967) – Kurt Nikkanen

Fantasy, Fugue, and Chaconne for Viola and Cello – Cyrus Beroukhim, viola and Amy Kang, cello

Five Greek Folksongs (after Ravel), for Violin and Piano - Kurt Nikkanen and Maria Asteriadou, piano

Three Pieces for Two Violins – Cyrus Beroukhim and Kurt Nikkanen

The concert can be seen on YouTube link at https://www.youtube.com/watch?v=YXdxpCbFYek. It will also be archived at that address.
Steven Gerber passed away on May 28, 2015.

The Steven R. Gerber Trust has been established, and is dedicated to the preservation and promotion of the music of Steven Gerber through the support and creation of projects, programs, and initiatives which elevate exposure to, increase interest in, and highlight aspects of, the composer's work.

For more information, please contact them at billrhoadsassociates@gmail.com.

The Steven R. Gerber Trust has begun a 3-year relationship with the London Sinfonietta and its Academy, whereby the Trust will support the training of young musicians in contemporary music performance, integrating Gerber's compositions into the program curriculum.

Haverford College (Gerber's alma mater) has archived all of the composer's manuscripts and personal materials and they are now available for research and biographical use and reference at the College Library. This collection contains five series: "Compositions," "Business," "Personal," "Other Composers," and "Audiovisual." The Compositions series consists of nine subseries, all related to Gerber compositions. The first six subseries are divided by the type of musical work, including "Orchestral," "Chamber," "Vocal," "Choral," "Piano," and "Other Solo."

In 2018, Fresh Inc Festival's emerging composers wrote writing pieces responding to Steven Gerber's interest in folk sources in more than one of his compositions. (Fresh Inc is run by Chicago's Fifth House Ensemble). Funds from the Gerber Trust helped offset composer tuition expenses and allowed the Festival to accept 24 composer participants for the first time rather than 16. Gerber's Five Greek Folksongs and Three Folksong Transformations served as centerpieces of some of the June festival's final concerts at Fresh Inc, surrounded by 24 new works inspired by his example.

In December 2017, The League of Composers/ISCM awarded two composers the Steven R. Gerber Composition Prize - Gra-V for fl/bass fl, cl/bass cl, vn, vc, perc, pf, by Vasiliki Krimitza and DEPO FLUX: concerto grosso for vn, va, cb, a.sax, elec. gtr, & ch. orch, by Ken Steen.

[details and more news]

Presenting "Three Little Duets" (2011), a group of short, fairly simple piano pieces intended for students of all ages. The score is available here in its entirety as a free PDF download.

Now playing:
Symphony No. 1, 1st mvmt.